December 27, 2012 at 10:54 pm
#1786
Jason Bobich
Keymaster
This from WordPress's automatic formatting inside the tabs. You can wrap your set of tabs in the raw shortcode:
[raw]
[tabs style="framed" tab_1="Tab #1" tab_2="Tab #2" tab_3="Tab #3"]
[tab_1]First tab content here.[/tab_1]
[tab_2]Second content here.[/tab_2]
[tab_3]Third tab content here.[/tab_3]
[/tabs]
[/raw]
This is really the best way for everything to get displayed as you intend, and to work from the Text tab, opposed to the Visual tab.
Or you just need to be more careful with the spacing you're putting in between things when you're putting them in there. Remember that WordPress is trying to put paragraph tags in between your line breaks. If you're pasting this code in from some other kind of text editor, make sure you're on top of what you're pasting in.
For example checkout your second column of the second tab where you have this:

You can see that you have these non-breakable space characters in there, and so WordPress is wrapping them with paragraph tags.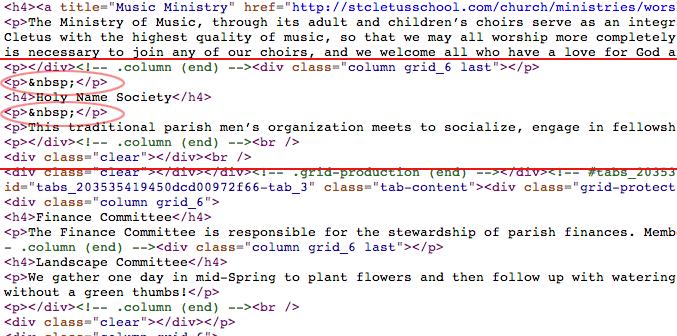 Also in that shot you can see the paragraph tags being inserted by WordPress around your column shortcodes. If you're not using the raw shortcode, you can tighten that up by not putting line breaks in between.
[one_half]
content...
[/one_half] [one_half last]
content...
[/one_half]